~Allyne Albrecht~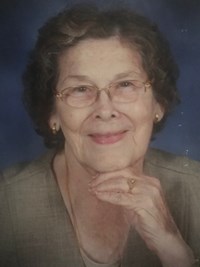 SHINER: Allyne Albrecht, 88, joined her heavenly family Tuesday, September 7, 2021. She was born September 29, 1932 , one of the seven daughters born to Walter and Elsa (Gerloff) Brunkenhoefer.
She grew up in Oak Grove and attended school there. She loved animals, birds and had a green thumb, she grew the most beautiful plants and flowers. She married her sweetheart, Lester Albrecht and they were blessed with a son, Curtis . Allyne was a lifetime member of Shiner UDML Lutheran Church  and her faith carried her through the difficult times with the loss of Lester in 2012 and son Curtis in 2015.
Survivors are her sister Darline Jahn and husband Robert of Shiner; numerous nieces and nephews; daughter-in-law, Nancy Albrecht of Shiner.
Preceded in death by her parents; husband Lester Albrecht; son Curtis Albrecht; sisters, infant, Irene, Bernice Ferrera, Gladys Walleck, Angeline Dullye and Evelyn Brosh.
Visitation 9:30 a.m. with Funeral Service at 10:30 a.m., Tuesday, September 14, 2021 at Shiner UDML Lutheran  Church with Rev. Chris Heinhold officiating. Burial to follow at Shiner Cemetery.
Pallbearers are Bryan Dullye, Wayne Jahn, Larry Jahn, Scott Jahn, Jimmy Welfel and Andrew Brosh Jr.
Honorary pallbearers are Barbara Kubecka and Susan Haba.
Memorials may be made to Shiner UDML Lutheran Church.
Arrangements by Thiele Cooper Funeral Home, 361-293-5656.