~Alfred "Sonnie" Baros~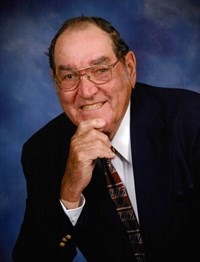 YOAKUM: Alfred "Sonnie" Baros, age 87, passed away Wednesday, June 12, 2019.
He was born August 5, 1931 in Yoakum to Alfred and Emma Orsak Baros.
He worked 46 years in the oilfield. He served in the U.S. Army during the Korean Conflict and was a Catholic.
Survivors: wife of 64 years, Margaret Pivoda Baros; daughter, Diane Stasny (Joe) of Victoria; son, Allen Baros of Yoakum; grandchildren, Melissa Parks (Johnny), Cheryl Campbell (Joshua) and Melanie Schendel (Boyd); great-grandchildren, Dylan Parks, Cheyann Parks, Regan Campbell, Cole Campbell, Tracer Schendel and Taryn Schendel; sister, Gloria Ferry (David) of Yoakum; 2 nieces and 1 nephew.
Preceded in death by: parents; son, Dennis Baros; sister, Dorothy Polzin.
Visitation 6-7 p.m with rosary at 7:00 p.m. on Friday, June 14, 2019 at ST. ANN'S CATHOLIC CHURCH.
Funeral Mass 1:00 p.m. Saturday, June 15, 2019 at St. Ann's Catholic Church with Rev. Matthew Huehlefeld officiating. Burial St. Ann's Catholic Cemetery.
Pallbearers: Joe Stasny, Johnny Parks, Joshua Campbell, Boyd Schendel, Mark Drozd and Gene Ledwig.
Memorial contributions may be given to St. Ann's Catholic Church.