~Evangelina Barrera~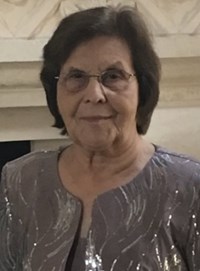 YOAKUM: Evangelina Barrera, age 78, passed away Sunday, June 23, 2019.
She was born March 5, 1941 in Concrete to Demetrio and Margarita Anzaldua DeLosSantos.
She was a seamstress at Double D and a Catholic.
Survivors: daughters, Cynthia Jimenez (Blase) of Cuero and Diana Jimenez (Ernest) of Spring; sons, Carlos Barrera (Terry) of Yoakum and Rodolfo Barrera of Austin;10 grandchildren and 9 great-grandchildren; sisters, Mary Alice Cavazos of Victoria, Mary Helen Castillo of Nursery, Rose Guajardo of Cuero, Delia Torres of Yoakum and Lydia Barrera of Yoakum; brothers, Frank DeLosSantos of Cuero and Refugio DeLosSantos of Hawaii.
Preceded in death by: parents; sister, Delfina Meza; brothers, Richard DeLosSantos and Ernest DeLosSantos.
Rosary 6:30 p.m. Wednesday, June 26, 2019 at Thiele-Cooper Funeral Home.
Funeral Mass 1:00 p.m. Thursday, June 27, 2019 St. Joseph Catholic Church with Rev. Matthew Huehlefeld officiating. Burial San Pedro Cemetery in Concrete.
Pallbearers: Eric Jimenez, Matthew Jimenez, Richard Barrera, Isaiah Diebel, Tony Gonzales, Isaac Cardenas. Honorary pallbearers, granddaughters.
Memorial contributions may be given to the donor's choice