~Imogene Bittick~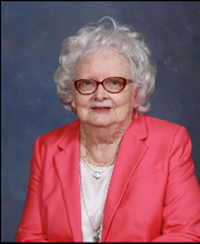 YOAKUM: Imogene Cole Bittick, 90, passed away Friday, December 31st, 2021. She was born April 7, 1931 in Cleveland, Tx to parents Fay and Autry Cole,
She was the secretary at First Baptist Church for 35 years. She helped establish the Yoakum Food Pantry.
She is survived by her Daughter, Suzanne and Husband Truman Moon of Richmond; Son, John and wife Roberta Bittick of Yoakum; Sisters, Joyce White of Houston; Mary Lou Lesseraux of Houston; Sister in Law, Nancy Cole of Houston; Brother in law G.H. White of Cleveland; Granddaughters, Melissa and husband Dustin Drake of Richmond; Christine and husband Lane Brown of Shiner; Rachel and husband Chris Thiry of Richmond; Rebecca and husband Noah Cress of Yoakum; Niece, Jennifer and husband Brent Collins of Houston; Nephews, Wes and Wife Carman White (Cole) of Cleveland; Ron and Wife JeanneMarie Lesseraux (Ethan) (Aidan) of Houston; Great-Grandchildren, Caleb Brown and Savannah Drake
She is preceded in death by her husband Everitt Bittick; Parents, Fay and Autry Cole; Brother, Don Cole.
Please wear mask.
Visitation 4-6 p.m. Monday, January 3, 2022 at Thiele-Cooper Funeral Home.
Funeral 11:00 a.m. Tuesday, January 4, 2022 at First Baptist Church with Pastor Daniel McFarland officiating.  Burial Yoakum Restland Cemetery.
Pallbearers: Dustin Drake, Lane Brown, Chris Thiry, Noah Cress, James Leist and Carl O'Neill.
Honorary pallbearers: all food pantry workers.
In lieu of flowers memorial contributions may be given to Yoakum Food Pantry.
The family would like to say a special thank-you to Kathy Pesek, Alice Nunez, Jeanine Trevino and Sally Mauric for the wonderful care they gave Mrs. Bittick.
Arrangements Thiele-Cooper Funeral Home 361-293-5656.