~Theresa "Doll" Brooks~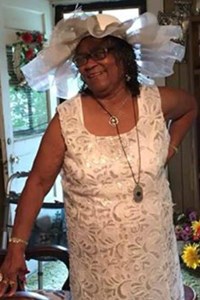 SHINER: Theresa "Doll" Brooks, 79, passed away Friday, October 6, 2017. She was born April 22, 1938 in Gonzales to Jackson Brooks and Minnie Lee Greathouse.
She was a housekeeper and was known for her love of hats and her good cooking.
Survivors are her daughters, Evelyn Brooks of Shiner and Patsy Brooks of Yoakum; 3 generations of grand to great-great-grandchildren; 3 brothers, Melvin Brooks Sr., Lennis Brooks Sr and Eugene Brooks; special Aunt Ruth Ella Brooks Alexander.
Preceded in death by her parents; son, Elvis "T-Bone" Brooks; great-grandson, Malachi Williams; sisters, Margie Brooks and Alberta Brooks; brother, Artis Brooks.
Funeral Service 11 a.m., Saturday, October 14, 2017 at  First United Methodist Church in Shiner with Rev. Jimmie Lee Hastings officiating. Burial at Old Brasco Cemetery.
Pallbearers are Steven, Preston and Clifton Price, Willie, Bennie and Charlie Greathouse.
Honorary Pallbearers are her grandchildren.
Memorials may be made to help defray funeral costs.