~Beatriz Castillo~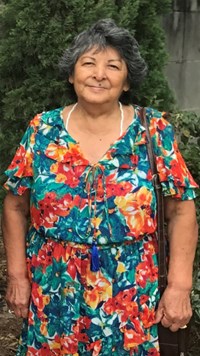 YOAKUM: Beatriz Castillo, 78, passed away Thursday, October 7, 2021. She was born July 29, 1943 in San Antonio to Manuel and Alejandra (Mares) Castillo but was raised by her beloved Julia (Lopez) Sanchez, a great Aunt who became her special mother.
She loved gardening, shopping and enjoyed music. Her pets were her beloved chickens.
Survivors are her son Sergio Sanchez and wife Debbie of Yoakum; three grandchildren, Alex, Julian and Randilyn Sanchez; sister, Flora Gonzales (Robert) of San Antonio; three brothers, Jesse Castillo of San Antonio, Rudy Cantu of San Antonio and Ernest Sanchez (Fela) of Victoria; numerous nieces and nephews.
Preceded in death by her parents; special mother, Julia Lopez Sanchez; two sisters, Guadalupe Sanchez Nieto and Margarita Castillo Moreno;  four brothers, Pantaleon Sanchez,  Joe Vallejo, Robert Sanchez and Raymond Castillo.
Memorial Service 11 a.m., Tuesday, October 12, 2021 at Thiele Cooper Funeral Home.
Arrangements by Thiele Cooper Funeral Home, 361-293-5656.