~Robert Chapman~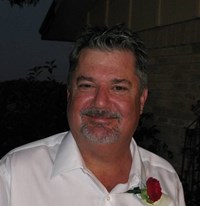 HALLETTSVILLE: Robert Bruce Chapman, 68, passed from his earthly life on August 11, 2023. He was a man of great faith and deeply loved the Lord. He adored his wife, Louella, his three children, their spouses, and ten grandchildren, as well as his many friends.
Robert was born March 14, 1955 in Houston, TX, grew up in Harlingen, TX where he was a proud Harlingen Cardinal and lived in Hallettsville, TX since 1987 where he and his first wife raised their children.  He is preceded in death by his parents, John Granger Chapman and Norma Elsie Pickard Chapman, and his grandparents, Robert Albert Pickard and Angela Ramos Pickard.
Robert will be greatly missed. He leaves behind many who love him; his wife Louella Franks Chapman, his sons Colton Chapman (Sarah), Kevin Chapman, and his daughter Siobhan Chapman Palmquist (Neil), his ten grandchildren, two brothers Sean and Tad Chapman, his sister Vicki Chapman Martinez, nephews, nieces, many loving friends and Miss Kitty. 
Robert had a large sense humor and a very youthful spirit. He loved to make children laugh in particular, and strived to make the adults around him - at the very least - smile from his clever zingers and witty banter. He enjoyed the smell of oak burning while sitting outside with Miss Kitty. He loved Jesus, classic movies, the beach and the Rocky Mountains.
Robert was generous with any stranger who needed a helping hand. But the level of his generosity was most notable to those closest to him and on many different levels. He took great pleasure in passing on his own life lessons and knowledge to loved ones and encouraged them regularly to always make the best use of their talents. 
Robert was extremely artistic, musical and creative and was a capable and hard worker. He mastered the grueling life of the oil field when he started at Willis Drilling Company at the age of 21. He looked after everyone working under and around him, as safety was his number one concern on the job. And after years of diligence and some setbacks when it was boom or bust, he worked his way up to "Company Man" for Shell Oil Company until his retirement.  He was a proud member of the Masons, Murchison Lodge 80.
A Celebration of Life will be held at a later date.  In lieu of flowers, please consider one of his favorite charities: Shriner's, Tunnels for Towers and See International.
Arrangements by Thiele Cooper Funeral Home, 361-293-5656.