~Adolph Chumchal~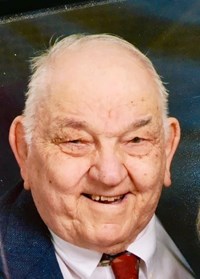 YOAKUM: Adolph Alvin Chumchal, age 84, passed away on Saturday, June 24, 2017.
He was born July 24, 1932 in Shiner to Albert and Mary Picha Chumchal.
He was a teller at Yoakum National Bank, managed Moo Moo Milk Store, served in the U.S. Army and was a Catholic.
Survivors: wife, Doris Mueller Chumchal; daughters, Kathy Hegstrom (Jeff) of Colorado and Debbie Randazzo (Randy) of Yoakum; sons, Larry Chumchal (Betty) of Yoakum, Gary Chumchal (Jill) of Victoria, Adolph Chumchal Jr (Edna) of Yoakum, John Chumchal (Terry) of Yoakum and Charles Chumchal (Donna) of Yoakum; 16 grandchildren and 6 great-grandchildren; brother, Leonard Chumchal of Yoakum.
Rosary at 7 p.m. on Thursday, June 29, 2017 at Thiele-Cooper Funeral Home.
Funeral Mass at 10 a.m. on Friday, June 30, 2017 at St. Joseph Catholic Church with Rev. Matthew Huehlefeld officiating. Burial at Shiner City Cemetery.
Pallbearers: Aaron Chumchal, Devin Chumchal, Connor Chumchal, Zackary Chumchal, Derek Chumchal, Jeremy Randazzo, Travis Randazzo, Shawn Hymes and Bryan Hymes. Honorary pallbearers: other grandchildren.
Memorial contributions may be given to St. Joseph Catholic Church or donor's choice.
Arrangements by Thiele-Cooper Funeral Home 361-293-5656.