~Myrtle B. Denmon~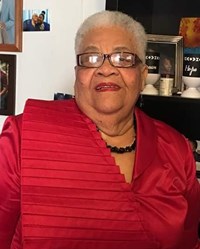 YOAKUM: Myrtle B. Denmon, age 79, entered her sunset Monday, June 7, 2021. She was born September 2, 1941 in Gonzales County to the late Sherman Jack Elam and RosieLee Johnson.
Myrtle loved God with all her heart and was a prayer warrior all her life.  She worked as a healthcare provider and loved taking care of everyone she met. She was totally devoted to her family and welcomed everyone with her smile and kindness. She loved to cook for her family and family gatherings were her greatest joy. No one was a stranger long in her presence before they became her friend.
Survivors are her daughters, Carolyn Armstrong, Paula Hopkins and Geraline Armstrong all of Cuero; sons, Carlesly Armstrong III and Arnold Armstrong , both of Yoakum and Randall Armstrong (Cynthia) of Katy; 13 grandchildren and 12 great-grandchildren; sister, Dorothy Elam and brother, Berry Caad; the entire Chapman family that she loved dearly and her 2 "angel" nieces, Sharon and Joyce; numerous extended family and friends.
Preceded in death by her parents; first husband, Carlesly Armstrong and second husband, Willie Denmon; daughter, Georgia Armstrong; son, Timothy Armstrong; grandson, Jamar Hopkins; 2 sisters and 3 brothers.
Face masks required for funeral service.
Funeral Service 1 p.m., Saturday, June 12, 2021 at Thiele Cooper Funeral Home with Apostle Amos Horton officiating. Burial to follow at Lockhart Cemetery.
Arrangements entrusted to Thiele Cooper Funeral Home, 361-293-5656.