~Bernardo Dominguez~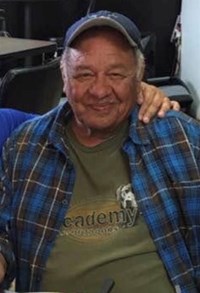 YOAKUM: Bernardo Dominguez, age 77, passed away Thursday, October 8, 2020. He was born August 10, 1943 in Yoakum to Manuel and Elisa Alvarado Dominguez. 
He worked in the sheet rock and dry wall business.
He loved sitting on the front porch and looking at nature, loved sitting outside at his brother's home with binoculars looking at deer, birds, and squirrels. Loved sitting with family and laughing at good jokes, and loved wearing a good pair of dark sunglasses and Dallas Cowboys cap.
Survivors: daughter, Diana Moreno; sons, Danny Dominguez and Darrell Dominguez; 9 grandchildren and 22 great-grandchildren; sisters, Nina Arriaga, Aurora Dominguez and Janie Gonzales.
Preceded in death by: parents, Manuel & Elisa Dominguez; wife, Terry Dominguez; son, Dion Dominguez; sister, Clara Rosales; brothers, Manuel Dominguez, Domingo Dominguez and James Dominguez.
Memorial service 11:00 a.m. Saturday, October 24, 2020 at Thiele-Cooper Funeral Home with Michael Dominguez officiating.
Arrangements by Thiele-Cooper Funeral Home 361-293-5656.