~Gertrude Elliott~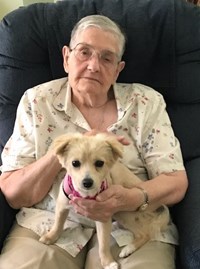 VICTORIA: Gertrude Elliott, age 90, passed away Saturday, September 4, 2021. She was born June 7, 1931 in Lavaca County to George and Minnie (Hoffer) Tuttle.
Gertrude was married to Phil Elliott for 68 years and lived in Michigan most of their life. After retirement they traveled the world in their RV and eventually settled near her hometown until Phil's passing in 2019.
Survivors are her daughters, Diane Kaczmarczyk of Victoria and Sharon Baranski and husband Bill of Colorado; son, Kenneth Elliott and wife Sharon of Michigan; five grandchildren, Joshua Kaczmarczyk, Taylor Anne Baranski (Nagdev), William Baranski, Noah Elliott and Jacob Elliott.
Preceded in death by her parents; husband, Phil; son, Michael G. Elliott and siblings, Louis Tuttle, James Tuttle and infant sister, Georgia Mae Tuttle.
Funeral Mass 2 p.m., Friday, September 10, 2021 at St. John the Baptist Catholic Church in Koerth with Rev. Dominic Antwi-Boasiako officiating. Burial to follow at St. John the Baptist Catholic Cemetery.
Arrangements by Thiele Cooper Funeral Home, 361-293-5656.