~Victor Philip Elliott~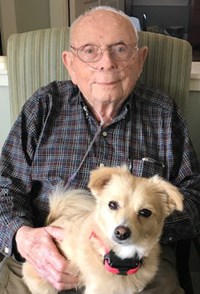 EDNA: Victor Philip Elliott, 93, passed away Friday, November 15, 2019. He was born April 22, 1926 in Pontiac, Michigan to Clarence and Lola (Rosch) Elliott. His mother died when he was two months old and his father married Ella who raised him as her beloved son.
He was a World War II veteran and was a member of Ganado American Legion. He had a master's degree in education and retired to Edna after 25 years of teaching in Michigan.
Survivors are his wife of 68 years, Gertrude (Tuttle) Elliott of Victoria; daughters, Diane Kaczmarczyk of Alabama and Sharon Baranski (Bill) of Colorado; son, Kenneth Elliott (Sharon) of Michigan; five grandchildren, Joshua Kaczmarczyk, Taylor Anne Baranski (Nagdev), William Baranski, Noah Elliott and Jacob Elliott; brother, Emerson Elliott (Joyce) of Virginia; numerous extended family and friends.
Preceded in death by his parents; son, Michael G. Elliott.
Rosary 10 a.m., Tuesday, November 19, 2019 at St. John the Baptist Catholic Church in Koerth with Funeral Mass at 10:30 a.m. with Rev. Patrick Kippenburg officiating. Burial to follow at St. John the Baptist Catholic Cemetery.
In lieu of flowers, memorials may be given to Alzheimer's Association of Victoria.