~Mary Beth Emerson~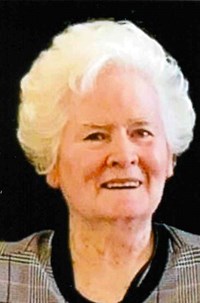 YOAKUM: Mary Elizabeth Emerson, 81, peacefully passed away Monday, April 19, 2021, surrounded by her three children.  She was born November 11, 1939 in Corpus Christi, Texas to James and Mary Ellen (Grisham) Spivey.
Mary Beth, as she was known to most, graduated from Roy Miller High School in Corpus Christi. She went on to study at Texas A&I in Kingsville and it was there that she met Lawrence Ray Emerson. They wed August 30, 1958 and were married 41 years until his passing in January 2000. Mary Beth was a member of First Baptist Church and worked alongside Lawrence Ray as the bookkeeper for Emerson Feed Company. Her true passion in life was raising her children, supporting them and volunteering with their numerous extra-curricular activities.
She is survived by her son, Thane Ray (Judy) Emerson of Rockport; daughters, Julie (Gary) Knocke of San Antonio and Suzanne (William) Russell of Houston; six grandchildren, Sara Emerson of Rockport, Clayton Knocke of San Francisco, CA, Kathleen Knocke of Washington, D.C., Raquel Layton of Houston, Vivian Russell of Houston and Cooper Russell of Houston; three great-grandchildren, George, Emerson and Tucker Vasquez of Rockport; sister, Janie (Courtney) Pieper of Victoria; sisters-in-law, Lynette Emerson of Woodsboro and Joyce Spivey of Lake Jackson.
Mary Beth is preceded in death by her parents; husband, Lawrence Ray Emerson and brother, Ben Spivey.
Visitation 12 noon to 2 p.m., Saturday, May 1, 2021 at Thiele Cooper Funeral Home with Funeral Service at 2 p.m., officiated by Rev. Tim Williams. Burial to follow at Yoakum Oak Grove Cemetery.
Pallbearers are Gary Knocke, Clayton Knocke, William Russell, Keith Emerson, James Pieper and Paul Pieper.
Memorials may be made to First Baptist Church Food Pantry, Bluebonnet Youth Ranch or Donor's Choice.
The family would like to express their heart-felt thanks to Josie Orosco and staff of Today's Assisted Living, Casey Brill and staff of Heartis San Antonio and Freedom Hospice for their excellence and compassion in caring for our Mother.
Arrangements by Thiele Cooper Funeral Home, 361-293-5656.