~Matt Fitch~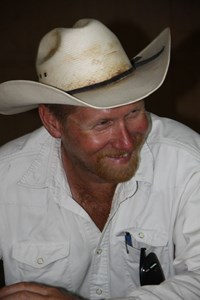 HALLETTSVILLE:  Matthew Fitch, AKA "Boss Man", 49,  completed all his work on earth August 27, 2021. He was born December 31, 1971 in Lavaca County, one of the three children born to Donald and Adele Herman (Siecko) Fitch.
Matt lived with his Dad at Koerth where he remained throughout his life. He graduated from Yoakum High School and shortly after started his work journey. In 1993 he worked for K & T Construction until 2015 when he went onto start his own business, Fitch Construction. He loved to work and he loved to garden, the only difference is,  work was a priority and gardening was his hobby. If he was not working, he was gardening, or canning pickles, vegetables and making the best salsa. Matt left his mark on Koerth with his big heart and willingness to help everyone.
Survivors are his soulmate of 21 years, Tina Raymond Fitch; daughter, Katie and sons, Clayton and Cody Fitch; sister, Misty Steffek.
Preceded in death by his parents, Donald and Adele Fitch; brother, Mikey Jr.
Visitation 4 to 6 p.m., Wednesday, September 1, 2021 at Thiele Cooper Funeral Home.
Graveside Service 10 a.m., Thursday, September 2, 2021 at Salem Cemetery with Pastor Nick Ferguson officiating.
Pallbearers are Clayton Fitch, Travis Woodward, Rick Hobbs, Ethan Hammond, Tyron Hargrove and Bill Lampley.
Memorials may be given to help defray funeral expenses.
Arrangements by Thiele Cooper Funeral Home, 361-293-5656.