~Minnie Giles~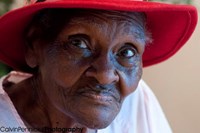 YOAKUM: On March 30, 1927, Minnie Lee Williams was born to the union of Elvin and Lenora Williams in DeWitt County, Texas. She grew up there along with her five sisters and four brothers. They grew up in a Godly home where she was loved and nurtured in God's word. She received Christ at an early age and continued to grow in faithful service in the Church for many years, holding many offices serving where she was needed.
On March 3, 1942, she joined in Holy Matrimony to Maico Clarence Giles, Sr. They lived in multiple places but eventually settled in Yoakum. Her husband Maico built the home they lived in with his own hands. They worked the land as a family and enjoyed the fruits of their labor. Minnie Lee Williams lived a good and full life filled with love for God, her family and friends.
On July 2, 2018, just before noon day, she passed away quickly and quietly with her daughter Minnie and grandson by her bedside and with other family members nearby and on their way. It was a good death.
She is preceded in death by her parents; her beloved husband, Maico Giles; son, Jerry Eugene Giles; five sisters and four brothers.
She leaves behind to cherish her memories five daughters, Minnie L. Standly, Alma Rine Johnson, Juanita Wooley (Pastor Joe Wooley), Carolin Holmes and Linda Hightower; three sons, Minister Maico Giles Jr. (Florence), Rev. Clarence Giles (Judith), Minister Lonzo Giles (Diane); 19 grandchildren, 54 great-grandchildren and 16 great-great-grandchildren.
Visitation begins at 10 a.m. with Funeral Service at 11 a.m., Sunday, July 8, 2018 at St. James Missionary Baptist Church in Yoakum with Pastor Lynn Jones officiating. Burial to follow at Pleasant Grove Cemetery.