~Gloria Grosse~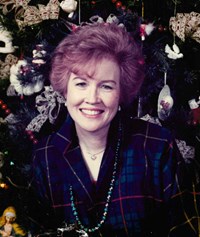 SHINER: Gloria Rae Grosse, 81, passed away Thursday, August 8, 2019 after an extended illness. She was born July 16, 1938 in St. Louis Missouri to the late Glenn and Sarah (Baker) Yorty.
She was employed at McDonald Douglas Aerospace in the graphic art department. She was  known for her beauty and was runner-up as "Aerospace Queen" She became a Christian in the Assembly of God Church at a young age and served her God through her church and community. She was a leader of the Missionettes and used her beautiful voice to sing solos in church.
She met James N. Grosse and they married June 4, 1988 and moved to Texas. They searched for their dream home and found a 110 year old Victorian home in Shiner, Texas. They enjoyed the Shiner community and lived there for 18 years.
Survivors are her beloved husband 31 years, James N. Grosse of Shiner; twin sister, Glenda Kay Yorty of Troy, Missouri; half-sister, Marlen Hollingsworth of Sibley, Missouri; sister-in-law, Marian (Grosse) Waldo of Austin.
Preceded in death by her parents.
Memorial Service to be held 4 p.m., Sunday, August 25, 2019 at Thiele Cooper Funeral Home in Yoakum, with Pastor Leo Miller officiating.