~Viola Hagens~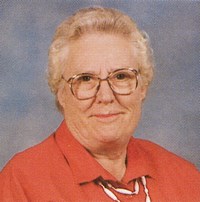 YOAKUM: Viola "Ola" Hagens, 96, passed away Thursday, March 14, 2019. She was born August 21, 1922 in Hallettsville to the late Emil and Minnie (Koch) Marburger. She was a lifetime member of Holy Cross Lutheran Church and was a waitress at Corner Café for 50 years.
Survivors are her sister, Bernice Jirkovsky of Yoakum; brother-in-law, Milton Behrens of Austin; numerous nieces and nephews and great nieces and nephews.
Preceded in death by her parents; husband, Alvin "Pete" Hagens; sisters, Evelyn Rab and Laray Behrens; brother, Julius Marburger.
Visitation 4 to 6 p.m., Sunday, March 17, 2019 at Thiele Cooper Funeral Home.
Funeral Service 11 a.m., Monday, March 18, 2019 at Thiele Cooper Funeral Home with Rev. Alsen Wenzel officiating. Burial to follow at Hermann Sons Cemetery.
Pallbearers are Steven Rab, Ethan Rab, Lacie Rab, Gary Marburger, Leroy Petru and Donald Jirkovsky.
Memorials may be given to Holy Cross Lutheran Church.