~Debhor Hajek~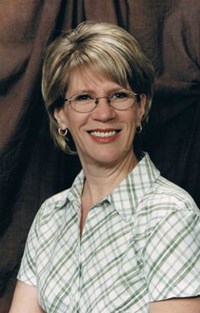 YOAKUM: Debhor Sue Johnson Hajek, age 59, went to be with the Lord on Tuesday, November 28, 2017.
She was born October 26, 1958 in Ganado to Garland and Maude (Johnson) Johnson.
She graduated from I.H.S. in 1977. She was a leather worker.
 Survivors: husband, Ervin Hajek, married May 21, 1977; son, Roman Hajek (Alecia) of Lolita; daughter, Petra English (Curtis) of Yoakum; 5 grandchildren, Shelby Hajek, Alexis Hajek, Annaka Hajek, Abbi English and Drake English; sister, Jeanne Hartsfield (Tim) of Yoakum; brothers, R. Steven Johnson (Alice) of Ganado, Timothy Johnson of  Mission Valley and Patrick Johnson (Bonnie) of Lolita.
Preceded in death by: father; step-father, Bob Arnold and two nephews.
Visitation from 6-8 p.m. on Friday, December 1, 2017 at the funeral home.
Funeral service at 10:00 a.m. on Saturday, December 2, 2017 at Thiele-Cooper Funeral Home with Brother Adam Jaquez officiating. Burial at Willow Creek Cemetery.
Pallbearers: Ben Johnson, Jason Henry, Sam Hartsfield, Paul Dentino, Jason Barton and Blaine Joines. Honorary pallbearers: Jeff Frazer, Gage Chandler, Shannon Rice, Harley Frazer, Jacob Johnson and Thomas Johnson.
Memorial contributions may be given to Texas Liver Foundation or Texas Kidney Foundation.