~Rev. Lawrence Hall~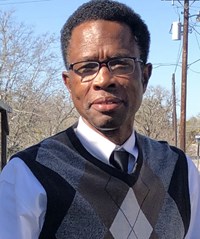 YOAKUM: Rev. Lawrence Jared Hall, age 59, passed away Monday, July 1, 2019.
He was born March 27, 1960 in Yoakum to Adron and Effie Caldwell Hall.
He was a assistant supervisor at Double J Saddlery and assistant Pastor at Beth Elder Baptist Church.
Survivors: mother, Effie Hall; wife, Stacey Carpenter Hall; daughters, Ebony Sylvester, Kendra Flugence and Madisen Anderson; sons, Terrance Hall and Brennen Hall; 4 grandchildren; sisters, Carolyn Hall, Janet Harper, Jackie Hall, Adriana Hall, Diane Hamilton and Margaret Williams; brothers, Elba Bailey, Ronnie Hall, Adron Price, Adron Hall Jr., Alvin Williams, Robert Williams and Gregory Williams.
Preceded in death by: father; sister, Marilyn Hall and brother, Will Bates Jr.
Viewing 1-6 p.m. Friday, July 5, 2019 at Beth Elder Baptist Church (201 Huck St.)
Funeral 11:00 a.m. Saturday, July 6, 2019 at First Baptist Church with Pastor Vernon Garza and Pastor Phillip Turner. Burial Oak Grove Cemetery.
Pallbearers: Adron Hall, Brandon Enoch, Maurice Lemons, Shelva Lemons, Ronnie Williams and Lee Lenzy.
Memorial contributions may be given to Beth Elder Baptist Church.