~Kathryn Hall~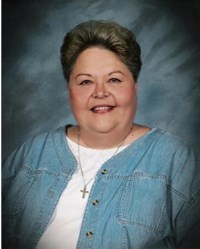 YOAKUM: Kathryn Ann Hall, age 73, passed away Wednesday, July 29, 2020. She was born December 28, 1946 to Willard and Esta Lee (Beckermann) Bade.
She was a 1965 graduate of Yoakum High School and a graduate of Victoria Beauty School. She received an Associate degree in business management. She was the owner and operator of Kathy's Kut & Kurl Beauty Shop and worked in the Lavaca County Justice of the Peace office. Due to her health she was homebound for a longtime but never lost her smile and was a social butterfly.
Survivors: daughters, Hallie Hall of Yoakum and Heather Mayo (K.C.) of Cuero; grandchildren, Jade Hall and Arabella Mayo; brother, Dennis Bade (Carol) of Yoakum; niece, Andria Hannum (Michael); great-nieces, Emma Rose and Ava Dawn Hannum.
Preceded in death by her parents.
Memorial Service will be held at a later date.
Memorial contributions may be given to Holy Cross Lutheran Church.
Arrangements by Thiele-Cooper Funeral Home 361-293-5656.