~Rev. Msgr. Joseph Hybner~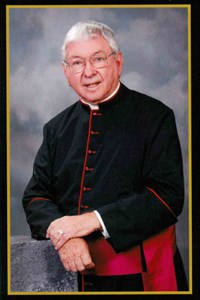 SHINER: Reverend Monsignor Joseph Hybner, 83, passed away Saturday, November 23, 2019. He was born November 11, 1936  in Shiner, one of the 9 children born to Leo and Josephine (Kurtz) Hybner. He served our Lord as a priest for 56 years and retired to his beloved Shiner in 2012.
Survivors are his sister Rita Janak of Shiner; sisters-in-laws, Henrietta Hybner and Florene Hybner, numerous nieces, nephews and extended family.
Preceded in death by his parents; sisters and spouses, Bernadette Valis (Frank Valis) and Agnes Pustka (Bobby Pustka); brothers and spouses, Bennie Hybner (Georgia Hybner), Theodore Hybner, Johnny Hybner, Alois Hybner and George Hybner; brother-in-law, Leo Janak.
Visitation 2 to 6 p.m., Tuesday, November 26, 2019 at Saints Cyril & Methodius Catholic Church in Shiner with Vigil Service/Rosary to follow at 6 p.m.
Funeral Mass 2 p.m., Wednesday, November 27, 2019 at Saints Cyril & Methodius Catholic Church in Shiner. Private burial will be held at Shiner Catholic Cemetery next to his parents.
Pallbearers are Gerard Janak, Paul Hybner, Frankie Valis III, Leo Pustka, Greg Hybner and Kevin Hybner.
In lieu of flowers, memorials may be given to Sts. Cyril & Methodius Catholic Church or Shiner Catholic School.