~Charlene Ross Irvin~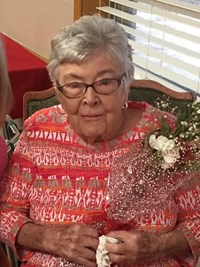 YOAKUM: Charlene Ross Irvin, 90, passed away Tuesday, September 28, 2021. She was born July 27, 1931 in Bandera, Texas to Charlie and Ida (Haemmerlin) Ross.
She was a veteran having served in the US Air Force. When Charlene returned to Texas, she went into banking and worked at First State Bank for 37 years until her retirement.
Survivors are daughters, Betty Tousek (Frank) of McQueeny, Holly Davis (Joe) of El Campo and Staci Weber (Richard Zimmerman) of Moulton; son, Doug Irvin (Marlene) of Shiner; grandchildren, Blaine Tousek, Colt Tousek, Zane Davis, Gunner Davis, Carli Weber, Cassey Appelt, Abby Irvin and Grace Irvin.
Preceded in death by her parents; husband Bryan Irvin; sister, Elizabeth Hunger.
Memorial Service 10 a.m., Saturday, October 16, 2021 at Thiele Cooper Funeral Home.
Memorials may be made to any Veteran's support group.
Arrangements by Thiele Cooper Funeral Home, 361-293-5656.