~Edwin "Sonny" Jaehne~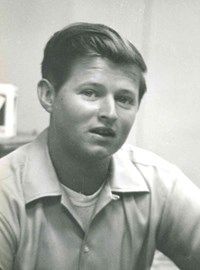 SHINER: Edwin "Sonny" Jaehne, 71, passed away Tuesday, February 16, 2021. He was born October 3, 1949 in Shiner to Edwin and Otilia (Zahn) Jaehne.
He graduated from Shiner High School and served in the U.S. Air Force from 1968 to 1977 and served one year in Vietnam. He was known for working at Howard's in Shiner and being a friendly fixture at the bar.
Survivors are his sister, Clara Vaclavik and husband Eugene of Houston; brother, Gus Jaehne and wife Patty of Shiner; nephew Bryan Vaclavik and niece Hilary Pesek (Michael) and great-nephew, Patrick Vaclavik.
Preceded in death by his Father, Edwin F. Jaehne and Mothers, Otelia (Zahn) Jaehne and Annie (Valis) Jaehne; infant son, Eugene Jaehne; sister, Jeanette Jaehne.
Visitation 3 to 5 p.m. with Rosary recited at 5 p.m., Sunday, February 21, 2021 at Thiele Cooper Funeral Home.
Funeral service 10 a.m., Monday, February 22, 2021 at Thiele Cooper Funeral Home with Deacon Michael Morkovsky with burial to follow at Shiner Catholic Cemetery.
Pallbearers are Bryan Vaclavik, Michael Pesek, Gus Jaehne, John Najvar, Howard Gloor and Edward Kloesel.
Memorials may be made to Shiner EMS or Donor's Choice.
Arrangements by Thiele Cooper Funeral Home, 361-293-5656.