~Tony Janak~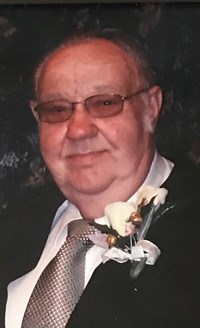 YOAKUM: Tony Janak, 80, passed away Monday, May 28, 2018. He was born September 25, 1937 in Yoakum to the late William and Sophie (Urbish) Janak Sr.
He was a lifetime member of St. Joseph Catholic Church, a 3rd degree Knight of Columbus for 60 years, SPJST and KJT. He retired from Delta Armature Works as the former owner. He loved music and was the leader of Tony Janak Polka Band for over 50 years.
Survivors are his wife of 60 years, Alice (Bordovsky) Janak of Yoakum; daughter, Diana Machacek (Kenny) of Shiner; sons, Wayne Janak and Mark Janak (Donna) all of Yoakum; 3 grandchildren, Justin Janak, Mallory Janak Zimmerman (Brandon) and Mindi Janak; 1 great-grandchild, Grady Zimmerman; sister, Bernadette Baker of Everett Washington.
Preceded in death by his parents; infant daughter, Deborah Janak; 2 brothers, William Janak Jr and Matthew Janak; sister, Johanna Kennard.
Visitation 6 p.m, Thursday, May 31, 2018 at Thiele Cooper Funeral Home with Rosary at 7 p.m.
Funeral Mass 10 a.m., Friday, June 1, 2018, at St. Joseph Catholic Church with Rev. Matthew Huehlefeld officiating. Entombment in St. Joseph Catholic Mausoleum to follow.
Memorials may be given to St. Joseph Catholic Church.