~Lillie Jemelka~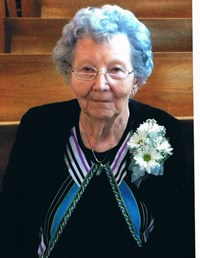 YOAKUM: Lillie Mary (Brom) Jemelka, 95, died on August 6, 2017.
She was born October 2, 1921 in Moulton, Tx to Albert and Augustina (Marchart) Brom.
She married Daniel Eric Jemelka on April 6, 1942 and celebrated 75 years of marriage. They had 7 children: Erwin Daniel (Shirley) Jemelka of Centralia, Washington, Joyce (Donald) Madden of LaVernia, Tx, Doris (David) Sykora of Austin, Tx, Kathleen (Kenneth) Fees of Yoakum, Gail Finnegan of Spicewood, Tx, Dennis (Dawn) Jemelka of Cuero, Tx, Mark (Cindy) Jemelka of Yoakum. Daniel and Lillie have 23 grandchildren, 37 great-grandchildren and 3 great-great grandchildren.
She is preceded in death by her parents, sister, Ella Michalec, brother Daniel Brom, grandchildren Craig Sykora and Kasey Jemelka, great-grandchild Aspen Jade Martin and son-in-law Dick Finnegan.
Lillie was a member of St. Joseph Catholic Church and was active in the Altar Society, Catholic Daughters of America, KJZT, VFW Auxiliary, the American Legion Auxiliary, A&M Mother's Club, and Polka Lovers Klub of America.
Lillie was a devoted wife, a caring loving mother and grandmother and a person of strong faith. She was a hard worker and had a great sense of humor.
Lillie loved traveling and dancing with her husband and could often be seen working in her large garden. She was a skilled seamstress and quilter. Lillie will be missed by all who were blessed to know her.
Visitation starts at 4:00 p.m. with rosary at 6:30 p.m. on Tuesday, August 8, 2017 at Thiele-Cooper Funeral Home. Funeral Mass at 10:00 a.m. on Wednesday, August 9, 2017 at St. Joseph Catholic Church with Rev. Matthew Huehlefeld officiating. Burial at St. Joseph Catholic Cemetery.
Pallbearers: grandchildren.
In lieu of flowers memorial donations can be made to St. Joseph School Endowment Fund or charity of choice.