~Billie Jean Jiral~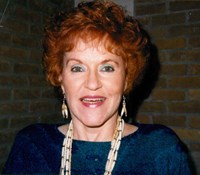 SHINER: Billie Jean Jiral, 92, completed her earthly journey Sunday, February 2, 2020. She was born in Eldorado, Oklahoma to the late Walter and Mildred (Jones) Clonts.
Billie was a vibrant beautiful woman who loved challenges. She worked in university administration for University of Toledo, Indiana University and retired from University of Texas after 17 years of service as the assistant director of business in the Speech & Hearing Institute. She played the piano and served on the Gaslight Theater Board until her health declined. She loved a "Lone Oak Tree" at the ranch where she shared special time with her beloved family.
Survivors are her husband of 30 years, Frank Jiral of Shiner; daughters, Luann Williams of Oregon and Joni Shepherd of Indiana; son, Tinsley Williams (Jean Scott) of Illinois; 3 grandchildren; sisters-in-laws, Mary Stauffer and Charlene Stehle; her beloved fur baby, Shenna; numerous family and friends.
Preceded in death by her parents; daughter, Jane Stubblefield; grandson, Arlo Stubblefield; brother, Harlan Clonts.
Funeral Service 1 p.m., Wednesday, February 5, 2020 at Thiele Cooper Funeral Home with Dr. Maurice Wilkinson officiating. Burial to follow at a later date.
In lieu of flowers, Memorials may be given to Gaslight Theatre, P.O.Box 223, Shiner, Texas 77984