~Bernice Jirkovsky~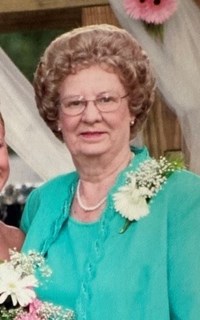 YOAKUM: Bernice Jirkovsky, 90, passed away peacefully Monday, March 13, 2023. She was born December 2, 1932 in Shiner to Emil Marburger and Minnie Koch Marburger. 
Bernice was a wonderful mother, grandmother and great-grandmother.  She was a great seamstress and took great pride in her yard and her flowers, winning "yard of the month."  She caught on quickly to using a cell phone and enjoyed Face-Time with her family.  Bernice was strong in her faith and prayed the Rosary daily.  In her younger years, she enjoyed dancing the polka and waltz with her beloved husband Dan.
Survived by: daughter, Karen Petru (Leroy); son Donald Jirkovsky; grandchildren Staci Helsel (Tyson); Keith Petru (Stephanie); brother-in-law Milton Behrens and five great grandchildren.
Preceded in death by: Parents; husband Dan Jirkovsky; brother Julius Marburger; sisters Evelyn Rab, Viola Hagans and Laray Behrens.
Visitation with the family at 4:30 with Rosary recited at 6:30 p.m., on Wednesday, March 15, 2023 at Thiele Cooper Funeral Home.
Funeral Mass 10 a.m., Thursday, March 16, 2023  at St. Joseph Catholic Church with Rev. Matthew Huehlefeld officiating.  Burial to follow at St. Joseph Catholic Cemetery.
Memorials may be given to St. Joseph Catholic Church or Donor's Choice. 
Arrangements by Thiele-Cooper Funeral Home, 361-293-5656.