~Frances Jurena~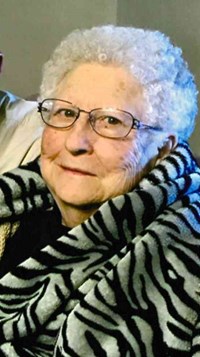 YOAKUM: Frances Lillie Jurena, age 88, passed away Wednesday, February 26, 2020.
She was born August 25, 1931 in Midway to John and Lillie Gallia Vank.
She was a homemaker, caretaker and a Catholic.
Survivors: sons, Michael Jurena (Lois) and Bernard Jurena (Nancy) all of Yoakum; grandchildren, Jared Jurena, Cullen Jurena and Kayleen Jurena; sister, Georgie Smith of Yoakum.
Preceded in death by: parents; husband, Clement Jurena; daughter, Carolyn Jurena.
Rosary 6:30 p.m. Thursday, February 27, 2020 at Thiele-Cooper Funeral Home.
Funeral Mass 10:00 a.m. Friday, February 28, 2020 at St. Joseph Catholic Church with Rev. Matthew Huehlefeld officiating. Burial St. Joseph Catholic Cemetery.
Pallbearers: Jared Jurena, Cullen Jurena, Bill Richter, Ricky Vinklarek, Andy Tillery, Karl Brosch. Honorary pallbearer: Kayleen Jurena.
Memorial contributions may be given to Harbor Hospice or donor's choice.