~W.T. Kneblick~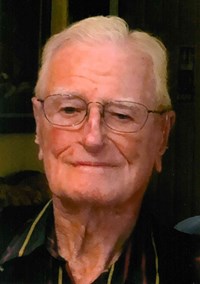 YOAKUM: William Terry "W.T." Kneblick, 96, passed away Saturday, February 6, 2021. He was born October 24, 1924 in Yoakum to Paul and Apalone Bertha (Eisman) Kneblick.
W.T. was raised in the Salem community and proudly served in the U. S. Army during World War II. When the beach of Normandy was cleared and secured one week after the invasion, he landed with supplies for the troops already there. The Germans shot at them from the air as they unloaded gasoline. He spent 16 months overseas in England, France, Holland , Belgium and Germany. He returned home and married his beloved Agnes Louise (Einkauf) Kneblick and they shared their lives together for the next 75 years. W.T. worked for Allen's Candy Company in Victoria which they eventually owned and operated until his retirement.  W.T. and Louise enjoyed living and ranching in the country. They have been faithful members of Hebron Baptist Church for many years and they believe that their strong faith in God and family have gotten them through these 75 years.
Survivors are his beloved wife, Louise Kneblick of Yoakum; daughters, Linda Madden of Corpus Christi and Gail Henrichs and husband Gary of Victoria; two grandchildren, Larry Madden and Kimberly Medrano; seven great-grandchildren and six great-great-grandchildren.
Preceded in death by his parents and brother Paul Kneblick.
Visitation 4 to 6 p.m., Friday, February 12, 2021 at Thiele Cooper Funeral Home with Funeral Service at 6 p.m. with Pastors Buddy Means and David Moore officiating.
Graveside Service 10 a.m., Saturday, February 13, 2021 at Hebron Cemetery.
Due to COVID, mask and social distancing requested.
Pallbearers are Gary and Gail Henrichs, Larry and Gina Madden, Gilbert and Kim Medrano, Aiden and Mason Medrano, LeAnn Madden, Wade and Mika Steinmann and Morgan Drake and Linda Madden.
Memorials may be given to Hebron Cemetery Association.
Arrangements by Thiele Cooper Funeral Home, 361-293-5656.