~Evie Kollaus~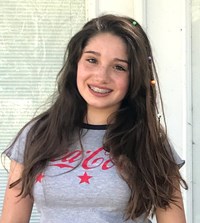 SHINER: Evie June Kollaus, age 13, passed away Friday, February 5, 2021. Evie was born March 19, 2007 in Austin to Jeremy and Becky Kollaus.
Evie was a student at Shiner I.S.D. She was a 7th & 8th grade cheerleader at LaGrange Middle School. Evie enjoyed running, hunting, eating good food and loved learning French. She was a joy and blessing to those who knew her.
Survivors: mother, Becky Mabry-McCulloch Kollaus; father, Jeremy Kollaus; sister, Molly Joe Kollaus; maternal grandmother, Judith Ann McCulloch-Falks; paternal grandparents, Otto and Wanda Kollaus Jr.
Preceded in death by maternal grandfather, Harvey Joe McCulloch.
Celebration of Life 3:30 p.m. Saturday, February 13, 2021 at Flatonia Baptist Church with Pastor Dr. Tim Rowell officiating.
In lieu of flowers memorial contributions may be given to Community Bible Study (communitybiblestudy.org), or The Gideons International (gideons.org).
Arrangements by Thiele-Cooper Funeral Home in Yoakum 361-293-5656.