~Marvin Kunetka~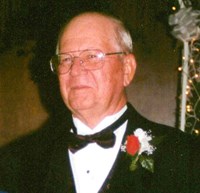 YOAKUM: Marvin R. Kunetka, age 90, went home to be with his lord on Saturday April 27, 2019 . Mr. Kunetka was born in Yoakum on October 24, 1928 to the late Rudolph and Clara (Gaidusek) Kunetka.
He worked early in his career for Wendel Motor Co. than began Kunetka Furniture Store in Yoakum, after many years in business , he sold the furniture store and returned to Wendel Motor Co. as a part-time bookkeeper. Mr. Kunetka enjoyed his reading, gardening, woodworking and always enjoyed caring for his farm animals.
He is survived by his loving wife of 69 years, Margaret A. Pekar Kunetka; (3) daughters: Gladys (Gilbert) Helweg, Carolyn M. Kunetka, and Laurie (Charles) McWhorter; and son, Leon J. Kunetka; (7) grandchildren;  (12) great-grandchildren; along with numerous cousins, nieces and nephews who all affectionately knew him as "Pa Pa" - including his friends. 
Preceded in death by: brother, William "Bill" Kunetka.
Pallbearers are David Barnes, Mark Pekar, Alan Monk, Jason Murff, Dennis Janssen and Patrick Gordo.
Visitation 5-7 p.m., Monday, April 29, 2019 at Thiele-Cooper Funeral Home.
Funeral Mass 10:00 a.m., Tuesday April 30, 2019 at Queen of Peace Catholic Church in Sweet Home with Rev. Dominic Antwi-Boasiako as celebrant.  Burial to follow at Queen of Peace Catholic Cemetery.