~Edwin Kusak~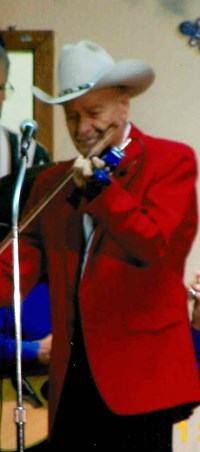 SHINER: Edwin Kusak, 87, passed away Sunday, March 11, 2018. He was born February 26, 1931 in Shiner. He was the last of the eight children born to Anton and Mary (Heiman) Kusak.
He was a poultry farmer and rancher and was best known for his love of country music and his famous "Blue Fiddle". He was a frequent entertainer at Country Music USA and played with many bands including The Palaminos and The Country Classics, both composed primarily of family members.
He married the love of his life, Lillie Tobola February 12, 1955 and they were married 48 years until her death March 12, 2003.  They were blessed with four sons; Donnie Kusak (Joan) of Houston, Gary Kusak (Laurie) of Shiner, Glen Kusak (Sherri) of Yoakum and Mark Kusak (Shanna) of Yoakum; 13 grandchildren and 11 great-grandchildren.
Preceded in death by his parents; his wife; sisters, Millie Surovec, Mary Wegener, Bessie Kremling and Rosie Nagelmueller; brothers, Anton, Rudy and Adolph Kusak.
Visitation 4:30 to 6:30 p.m., Wednesday, March 14, 2018 at Thiele Cooper Funeral Home in Yoakum with Rosary recited at 6:30. p.m.
Funeral Mass 10 a.m., Thursday, March 15, 2018 at Sts. Cyril & Methodius Catholic Church in Shiner with Rev. Bryan Heyer officiating. Burial to follow at St. Anthony Cemetery at Breslau.
Pallbearers are his grandsons. 
Honorary Pallbearers are his granddaughters.
Memorials may be given to Sts. Cyril & Methodius Catholic Church or Catholic Daughters.
Arrangements by Thiele Cooper Funeral Home, 361-293-5656.