~Wilbert Kutac~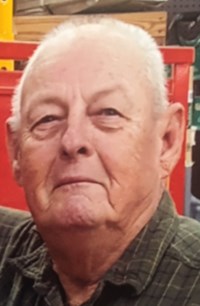 YOAKUM: Wilbert Stanley Kutac, age 78, passed away Saturday, June 24, 2017.
He was born July 12, 1938 in Moulton to Stanley and Ludmila Migl Kutac.
He retired from Texas Highway Department after 28 years of service. He served in the National Guard and was a Catholic.
Survivors: son, Darrell Kutac (Donna) of Hallettsville; grandchildren, Ashton Kutac and Alyssa  Kutac; one brother.
Preceded in death by: parents; wife, Bernice Kutac; infant sister, LaVerne Kutac.
Visitation from 4-6 p.m. on Monday , June 26, 2017 at Thiele-Cooper Funeral Home.
Rosary at 9:30 a.m. on Tuesday, June 27, 2017 followed by funeral Mass at 10 a.m. at St. Joseph Catholic Church. Burial at St. Mary's Catholic Cemetery.
Pallbearers: Harvey Vrana, Julius Vrana, John Herman, Greg Thomas, Scott Fojt and James Leist.
Honorary pallbearers; Ashton Kutac, Alyssa Kutac, Cameron Chudej and Austin Barton.
Memorial contributions may be given to Shiner Catholic School or donor's choice.
Arrangements by Thiele-Cooper Funeral Home 361-293-5656.