~Ina (Manning) Lamb~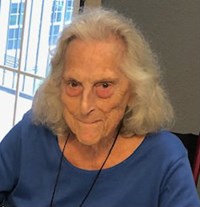 YOAKUM: Ina (Manning) Lamb, 91, passed away in San Antonio on Friday, May 24, 2019. She was born December 17, 1927 in Yoakum to the late Ezekiel and Lenora (Porche) Manning.
She was a devout Catholic and was retired from Union Pacific Railroad.
Survivors are her nephew, William Manning; niece Nancy Olney; step-daughter, Priscilla Lamb.
Preceded in death by her parents; husband, Bruce Lamb; sisters, Vernell Dolezal, Ruth Johnson, Jean Reile and Gladys Schmidt; brother Leon Manning.
Funeral Mass 1 p.m., Friday, May 31, 2019 at St. Joseph Catholic Church with Rev. Matthew Huehlefeld officiating. Burial to follow at St. Joseph Catholic Cemetery.