~Gail Lampley~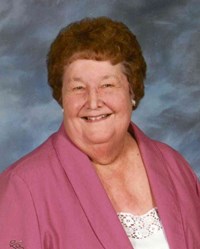 YOAKUM: Gladiola "Gail" Lampley, 89, passed away Sunday, August 29, 2021. She was born November 18, 1931 in Brenham to the late Carl and Ella (Schwartz) Brockermeyer.
She was a member of Holy Cross Lutheran Church and was a bookkeeper, having retired from Sears & Roebuck Co. after  18 years of service.
Survivors are her sister, Ruth Hengst and husband Max of Tomball; numerous nieces and nephews.
Preceded in death by her parents; husband James O. Lampley; sister, Ora Dell Hagan; brothers, Smitty Brockermeyer,  Fred Brockermeyer and Floyd C. Brockermeyer.
Funeral Service was held 11 a.m., Friday, September 3, 2021 at Holy Cross Lutheran Church with Rev. Alsen Wenzel officiating and Burial at 1:30 p.m. at Salem Cemetery.
In lieu of flowers, memorials may be given to Holy Cross Lutheran Church.
Arrangements by Thiele Cooper Funeral Home, 361-293-5656.