~Kelvin Leonard~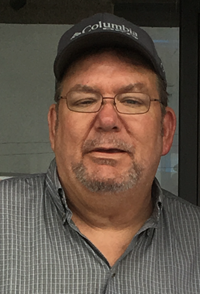 SHINER: Kelvin Ray Leonard, or as many knew him as Ray, was called home on Thursday, July 30, 2020.
Ray led a unique life and was not a man known for holding his tongue. He was a stubborn, blunt, but honest man though he wasn't perfect. He always tried his best to right any wrong. He had the biggest heart and the greatest bear hugs. He was loved by many, hated by few and respected by most.
Ray was the kind of a man that you knew you could trust. Ray did his best to live his life according to the teachings of his family where a man's word was good, a handshake was a bond, and respect was earned. Ray taught everyone around him what he knew and loved giving educational pointers when someone did things differently than he would have done. Ray had a drive to work, he even dreamed of working through his last days. Ray was a jack of many trades, a true born salesman and a man on a mission. Ray was greatly loved and will be dearly missed.
Ray leaves behind his wife, Phyllis Leonard; 3 daughters, Desiree Ruiz (John) of Port Lavaca, Rachel Carey (Chris) of Pottsboro and RaeAnn Leonard of Victoria; 1 step-daughter, Jamie Petru-Kalisek (C.J.) of Lufkin; 14 grandkids and 3 step-grandkids; sister, Thea King (David) of Flatonia.
Preceded in death by his parents; sister, Debby Leonard
He protected his wife and girls until his last breath and will continue to do so from above when he is not fishing in that big lake in the sky, that is.
A private Celebration of Life will be held. He will be laid to rest at Leonard's Haven Cemetery.
Pallbearers: John Green, Doug Cutsinger, Kenneth Buescher, John Ruiz, Mark Reed, Trevor Leonard, Chayden Carey, Joshua Petru and J.R. Peters.
Memorial contributions may be given to Shiner Police Department.
On-line guest book may be signed at www.thielecooper.com
Arrangements by Thiele-Cooper Funeral Home 361-293-5656.