~Emily Linn~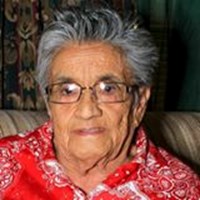 YOAKUM: Emily Linn, age 78, passed away Sunday, May 13, 2018.
She was born November 1, 1939 in Gonzales County to Ascension and Erminia Agauro Garcia.
She was a homemaker.
Survivors: husband of 56 years, Thomas P. Linn, Sr; sons, Tommy Linn Jr (Dana) of Yoakum and Ricky Linn (Nellie) of Shiner; grandchildren, Ethan Linn, Kerry Linn, Jacob Linn, Kaleb Linn and Emersen Linn; brother, Andy Garcia of Yoakum.
Preceded in death by: parents; brothers, Domingo Garcia and Jesse Garcia.
Visitation 6:00-7:30 p.m. Wednesday, May 16, 2018 at Thiele-Cooper Funeral Home.
Funeral service 10:00 a.m. Thursday, May 17, 2018 at Thiele-Cooper Funeral Home with Robert Ramirez officiating. Burial at Restland Cemetery.
Memorial contributions may be given to National Kidney Foundation.