~Bettie Marcak~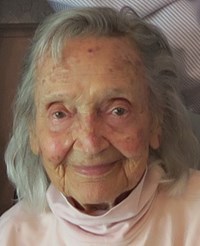 SHINER: Bettie Marcak, age 100, passed away Sunday, November 21, 2021. She was born April 6, 1921 in Lavaca County to John and Anna (Darilek) Culak.
She worked alongside her husband in the service station and home & auto supply business, raising cattle and she operated Bettie's Cafe. She loved animals and working in the yard. She was devoted to her husband, family and was a Catholic.
Survivors: son, Bernard Marcak and wife Dolores; grandchildren, Shannan Marcak and Scott Marcak; great-grandchildren, Kyle Marcak and Kaitlyn Marcak.
Preceded in death by: parents; husband, Ben Marcak; sisters, Annie Kolar, Helen Hajek, Hortense Darilek, Kamila Mraz; and brother John (Johnnie) Culak.
Rosary at 11 a.m. followed by a Funeral Service Friday, November 26, 2021 at Sts. Cyril & Methodius Catholic Church with Deacon Joe Machacek officiating. Burial to follow at Shiner Catholic Cemetery.
Pallbearers are Bernard Marcak, Shannon Marcak, Kyle Marcak, Scott Marcak, Kaitlyn Marcak, and Eugene Machacek.
Memorial contributions may be given to Sts. Cyril & Methodius Catholic Church.
Arrangements by Thiele-Cooper Funeral Home 361-293-5656.