~Dorothy Mayer~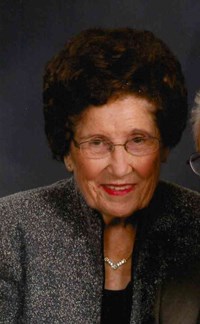 YOAKUM: Dorothy Jane (Beyer) Mayer, 97, passed away peacefully Thursday, September 7, 2023,  surrounded by her beloved family. She was born January 15, 1926 in Lavaca County to Ben and Alice (Bolech) Beyer.
She married Edwin Mayer on April 18, 1945 in Shiner and they were blessed with a daughter, Peggy. Ed and Dorothy were constant companions for almost 70 years before his passing in 2015. Dorothy was a trailblazer, becoming a business woman before the time of acceptance for women to be in business. She obtained her real estate license, became an agent for Garfield Farm Mutual Insurance and served on the Board of Director's for Garfield Farm Mutual for more than 20 plus years. Dorothy was a talented seamstress, taking great pride in the dresses she made her three granddaughters. She crocheted many pieces with love that she shared with others.
Survivors are her daughter Peggy Krejci and husband Elias of Yoakum; granddaughters, Kimberly Kvinta (Chris), Glenda McCulloch (Tim), and Laura Cumby (Kevin); great grandsons, Tyler Kvinta, (fiancee, Brittany Jimenez), Hunter Kvinta, Bryan McCulloch, Timmy McCulloch, Sean McCulloch and Hudson Cumby.
Preceded in death by her parents; husband Ed Mayer; brother, Eugene Beyer.
Visitation 3 to 5 p.m., with Rosary recited at 5 p.m., Sunday, September 10, 2023 at Thiele Cooper Funeral Home.
Funeral Mass 10 a.m., Monday, September 11, 2023 at St. Joseph Catholic Church with Rev. Matthew Huehlefeld officiating. She will be laid to rest at St. Joseph Catholic Mausoleum.
Pallbearers are her grandsons-in-law and great-grandsons.
Memorials may be given to St. Joseph Catholic Church or Donor's Choice.
Arrangements by Thiele Cooper Funeral Home, 361-293-5656.