~Glenn Michal~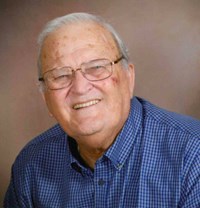 MOULTON: Glenn David Michal, 76, passed away Saturday, August 17, 2019. He was born September 13, 1942 in Shiner to the late John and Ella (Kasparek) Michal. His father was killed in WWII and he was blessed to have "Pop" Vrazel join their family.
He was retired from insurance sales and moved to Moulton, Tx for the "golden years". He was a member of St. Joseph Catholic Church in Moulton and was a 3rd degree Knight of the Kingsland Council. He loved music and was a drummer in the Bay City Dutchman Polka Band.
Survivors are his beloved wife of 50 years, Marilyn (Harbers) Michal of Moulton; son, Matt Michal and wife Windi of Moulton; grandchildren Caden and Samantha Michal; brother, Philip Vrazel and wife Charlotte of Corpus Christi; sister-in-law, Joyce Michal of Kingsland; numerous nieces and nephews and friends.
Preceded in death by parents, John and Ella Michal and step-father, Philip "Pop" Vrazel; brother, E.J. Michal; nephew, David Vrazel; niece Leanne Ulcak.
Rosary 9:30 a.m., Wednesday, August 21, 2019 at St. Joseph Catholic Church in Moulton with Funeral Mass at 10 a.m. with Rev. Gabriel Maison officiating. Burial to follow at Shiner Catholic Cemetery.
Memorials may be made to Shiner or Moulton Volunteer Fire Dept. or Down Syndrome Foundation.