~Covey Morrow Jr.~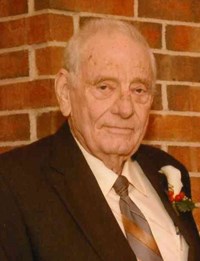 YOAKUM: Covey Heath Morrow, Jr., age 83, passed away peacefully Thursday, March 9, 2023 with his family by his side. He was born February 4, 1940 in Yoakum to Joe Covey and Clara Heath Morrow.
He was, with his wife, owner & operator of Morrow Hardware Company for 63 years.
Covey, affectionately known as "Boo Boo" by his family, lived life to the fullest in many ways. In his younger days, he was an avid water skier and was quite good at it, specifically slalom skiing. He also loved small aircraft and at the young age of 19, he decided to acquire his private pilots license. He later owned his own Cessna 172, which was his favorite plane. He and Julie would take many trips throughout Texas, especially to the coast, with him piloting. Many times they would also take willing friends on their excursions. He also loved boating and really enjoyed their annual camping trips to Coleto Creek Reservoir in Victoria with family and friends.
Later in life, he came to simply enjoy being at their ranch home. Working on the land with his tractor or just watching all the wildlife that roamed the property. He really enjoyed visiting and telling stories with his buddies at deer camp. More recently, he and Julie always looked forward to their day trips to Rockport.
Other interests were anything related to World War II, especially the aircraft and ships that were involved. He knew every plane by its designation and nickname.
Survivors: wife of 43 years, Julie Lusk Morrow; daughter, Kim Smith of Victoria; son, Covey Morrow, III (Tammy) of Yoakum; grandchildren, Jacy Norton of Terre Haute, Indiana, Whitney Lewis of Houston, Covey Morrow, IV (Melissa) of Yoakum and Casey Morrow (Sandy) of Yoakum; great-grandchildren, Nathan Covey Morrow and Faith Marie Morrow both of Yoakum; step-daughters, Tami Ward (Monica) of Katy and Shelley McKelvy (Bill) of Longwood, Florida.
Preceded in death by: parents, Joe Covey and Clara Heath Morrow; son-in-law, Rick Smith.
Funeral will be held 10:00 a.m. Saturday, March 18, 2023 at Thiele-Cooper Funeral Home with Pastor Alsen Wenzel officiating.
Memorial contributions may be given to American Cancer Society or donor's choice.
Arrangements by Thiele-Cooper Funeral Home 361-293-5656.