~Norvin Mueller~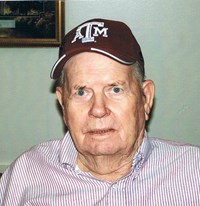 SHINER: Norvin Mueller, 88, passed away on Friday, July 7, 2017.
He was born October 13, 1928 in DeWitt County to D.A. and Helen Indorf Mueller.
He was a grocery clerk and served in the U.S. Army during the Korean Conflict. He was a member of Shiner American Legion and a Catholic.
Survivors: wife Joyce Hrabovsky Mueller; step-sons, James Hrabovsky (LeAnn) of Victoria, Roger Hrabovsky (Christine) of Rankin, David Hrabovsky of Chynene, Wy., and Dale Hrabovsky (Traci) of Friendswood; step-daughter, Judy Moore (C.L.) of Yoakum; grandchildren, Brett Hrabovsky, Christi Berger, Jenny Foster, Jackie Boswell, Jennifer Gohlke, Josh Hrabovsky, Billy Hrabovsky, Brady Hrabovsky, Jessie Hrabovsky, Taylor Hrabovsky and Riley Hrabvsky; 8 great-grandchildren.
Rosary at 7:00 p.m. on Monday, July 10, 2017 at Thiele-Cooper Funeral Home.
Funeral Mass at 10:00 a.m. on Tuesday, June 11, 2017 at St. Ann's Catholic Church with Rev. Matthew Huehlefeld officiating. Burial at St. Ann's Catholic Cemetery.
Memorial contributions may be given to St. Ann's Catholic Church or Hospice of South Texas.
Arrangements by Thiele-Cooper Funeral Home 361-293-5656.