~Joe Eddie Naiser~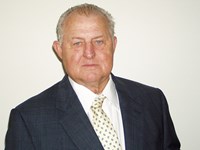 VICTORIA: Joseph Edward (Joe Eddie) Naiser, age 83, passed away Sunday, February 17, 2019.
He was born March 19, 1935 in Taiton, Texas to Joe F. and Viola Vaclavik Naiser.
He married Georgie Lee Maltese June 8, 1953.
He retired from Union Carbide in Seadrift, Texas after 35 years (1984-1987 in Saudi Arabia) as a Senior Production Engineer in 1991. He returned to Saudi Arabia as a direct hire as Plant Training Manager for a new chemical plant being built. He and Georgia were there from 1991-1998. Together he & Georgia visited 43 countries. He then traveled to China, Germany and Chile consulting with chemical plants on how to improve their operations. In 2005 he wrote a book about his amazing life. He was active in his Catholic faith, member of Queen of Peace Catholic Church, member of the Knights of Columbus in Port Lavaca and Yoakum. He served on ACTS retreat teams.
Survivors: daughters: Connie (Tommy) Hermes of Hallettsville, Cathy (Tracy Annis) Naiser of Canyon Lake and Cynthia Naiser of Corpus Christi; sons, James (Karen) Naiser of Seabrook, Texas and Dwayne (Melissa) Naiser of San Antonio; 9 grandchildren and 13 great-grandchildren; brother, Donald (Barbara) Naiser of San Antonio.
Preceded in death by: parents; wife, Georgia Naiser; son, Steven Paul Naiser; great-grandson, Jaxon Blake Hermes; brother, Fred Naiser.
Visitation from 5:00-7:00 p.m. with a 7:00 p.m. memorial rosary on Thursday, February 21, 2019 at Thiele-Cooper Funeral Home with Rev. Dominic Antwi-Boasiako officiating. 
In lieu of flowers the family request donations be made to Hospice of South Texas Center of Compassion 1005 Mallette Dr. Victoria, Texas 77904 or Queen of Peace Catholic Church in Sweet Home.