~Scarlett O'Neill~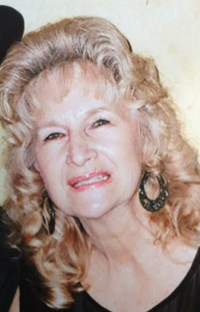 YOAKUM: Scarlett L. O' Neill, age 76, passed away Saturday, May 19, 2018.
She was born March 14, 1942 in Yoakum to Ned Scarlet and Melva Hunt Castellow.
She was a homemaker, member of Red Hat Association and a Baptist. She loved music & performing in the church and nursing homes and loved gardening.
Survivors: husband, Glenn O'Neill; son, Wade O'Neill of Seguin; daughter, Danette Izard (fiancé Dr. David East) of Yoakum; 5 grandchildren and 2 great-grandchildren; sisters, Shirley Hrabovsky (companion Wayne Buethe) of Yoakum and Rhonda Collinsworth (Eddie) of Gillette; brother, Larry D. Castellow (Robin) of Danbury; sisters-in-law, Joy Castellow of Pasadena and Karen Castellow of San Marcos.
Preceded in death by: parents; brothers, Milton "Sonny" Castellow and Roger "Banjo" Castellow; grandson, D.J. O'Neill.
Visitation 6-8 p.m. Monday, May 21, 2018 at Thiele-Cooper Funeral Home.
Funeral service 2:00 p.m. Tuesday, May 22, 2018 at Thiele-Cooper Funeral Home with Rev. Mickey O'Neill officiating. Burial at Pilot Grove Cemetery.
Pallbearers are Kevin Hrabovsky, Clint Castellow, Clay Collinsworth, Cody Castellow, Larry Dale Castellow, Chris Collinsworth, Michael Castellow, Lance O'Neill, Jerod O'Neill and Jonathan O'Neill.
Memorials may be given to the donor's choice.