~Evelyn Opela~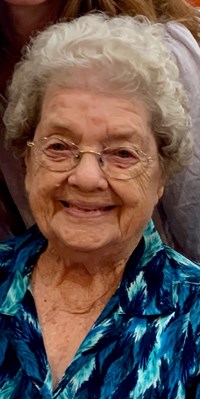 SHINER: Evelyn Marie Opela, 92, passed away peacefully Tuesday, May 9, 2023. She was born October 15, 1930 in Sweet Home to James and Mary (Cervenka) Pekar.
Evelyn worked at Weingarten, and retired from Circle Y of Yoakum after 20 years of service.  Evelyn loved to cook and bake and loved her cats and playing bingo.  Evelyn enjoyed 66 years of marriage to her husband Adolph Opela before his passing in 2018.
Survivors are her daughters, Katherine Mitchell (Lester) of Hallettsville; Jane Janak (Tommy) of Hallettsville; son Jeffrey Opela (Shana) of Hallettsville; eight grandchildren; sixteen great-grandchildren; two great-great grandchildren.
Preceded in death by her parents; eight brothers and sisters.
Rosary to be recited at 10 a.m. with Memorial Mass at 10:30 a.m., Friday, May 26, 2023 at St. Mary's Catholic Church. Burial to be held at a later date. 
Memorials may be given to Hospice of South Texas or St. Mary's Catholic Church.
Arrangements by Thiele-Cooper Funeral Home, 361-293-5656.