~Edna Orsak~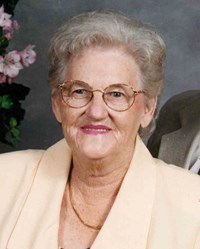 KATY: Edna Leona Orsak, 86, passed away Tuesday, August 20, 2019. She was born January 3, 1933 in Hallettsville  to the late Rae and Birdie (Reid) Henry. 
She worked as a payroll administrator for K-Mart for many years and was a member of St. Bartholomew Catholic Church.
Survivors are her daughters, Elaine Kay Orsak of Katy and Angie Fergusion (James) of Hunstville; sons, Michael Orsak (Shelly) , John Orsak (Rhonda) and William Orsak Jr., all of Katy; 8 grandchildren and 3 great-grandchildren.
Preceded in death by her parents; husband William J. Orsak (2014); son, Corley Adam Orsak (1988).
Visitation 5 to 6:30 p.m., Friday, August 23, 2019 at Thiele Cooper Funeral Home in Yoakum with Rosary recited at 6:30 p.m.
Funeral Mass 10 a.m., Saturday, August 24, 2019 at St. Joseph Catholic Church with Rev. Matthew Huehlefeld officiating. Burial to follow at St. Joseph Catholic Cemetery