~Billie Osburn~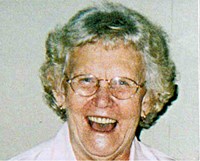 SHINER: Billie M. Osburn, 85, passed away Friday, June 8, 2018. She was born February 10, 1933 in Tyler, Texas to the late Zach and Lois (Crawford) Norton.
She was a retired elementary school teacher and loved her retirement in Shiner, Texas.
Survivors are her sons, Bev Osburn and wife Paulette of Shiner and Bob Osburn of Austin; 5 grandchildren and 9 great-grandchildren; a host of family and friends.
Preceded in death by her parents; husband, Pete Osburn; daughter, Beth Ann Osburn.
Graveside Service to be held 2:30 p.m., Thursday, June 14, 2018 at Cathedral In The Pines at Tyler, Texas with Pastor J. Lockhart officiating.
In lieu of flowers memorials may be made to Shiner Public Library, 115 E. Wolter 2nd St., Shiner, Texas 77984.