~Dylan Pekar~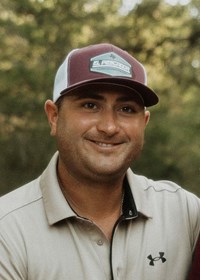 YOAKUM: Dylan Kade Pekar, age 29, passed away suddenly, Sunday, August 13, 2023.  As the first grandson on both sides, he arrived in this world with much anticipation and excitement on October 28, 1993, in Victoria, Texas, to Rachel Horton Parsons and Mark Pekar.
Dylan was an amazing human being with such a big heart.  An abundance of friendships is testimony to his goodness and embracing nature.  With his simple ways and desire to be present yet not in the spotlight, he made family and friends a priority in his life.  You might catch him grilling a steak on the pit at gatherings, participating in fishing tournaments at the bay or throwing on some camo and going hog hunting.  Dylan loved the outdoors and spent most weekends with his brother and best friend, Kyler.  Many nights were spent with his good friends gathered on his porch or around a firepit at his country home.  His house was the place to be and guaranteed to bring laughter and a bunch of trash talk among some good ol' country boys.   Dylan was a proud member of the Sweet Home Volunteer Fire Department, which gave him another group of amazing men to spend time around.
When he became a father, his whole world changed, and you could witness the unconditional love of a parent.  His favorite moments were time spent with his sweet Myles and being the best dad ever.  He made sure his son felt loved and shared him with others who brought love into his life.  Part of that love came from their furry family member, Bentley.
As a handsome, polite young man, Dylan had a way with people and shared his contagious smile with those blessed to spend time with him.  As a loving son, brother, grandson and nephew, Dylan was known for giving hugs when he saw you and before he left you.  He was all about family, and he made it a point to be present in our lives.
Dylan graduated from Yoakum High School and earned a degree in Instrumentation from Victoria College.  After graduation, he went to work for USA Compression Company as a compressor mechanic.  His most recent career path led him to Kinder Morgan, where he was a dedicated employee with a strong work ethic.
It's hard to understand why his time with us was only for a short while.  We will live each day thankful for the time we had with him and grateful for all the wonderful gifts he left behind for us especially Myles.  Our lives are better for knowing him and loving him.  He brought joy to our lives and will forever be in our hearts. 
Dylan will be remembered by his precious 2-year-old son, Myles Kade Pekar, his mother Rachel and step-father, Rick Parsons, his father Mark Pekar, his brother, Kyler Pekar, step-sister, Kendra Boone (Brandt), nephew, Brooks Boone, grandparents Doris Clark, Harvey and MaryAnn Pekar and Helen Parsons, his son's mother, Sadi Meza, his aunts and uncles, Paula Grahmann (Michael), Kim Caka (James), Quinn Pekar (Kathy) and Pam Price (Randy).  He had numerous cousins and friends that loved him dearly. 
He was preceded in death by his infant sister, Haven Pekar, and grandfathers Bobby Clark and Bob Parsons.
There will be a celebration of life for Dylan on Saturday, October 28, 2023.  Details will be shared once known. We invite all those you knew Dylan to share the day with us and celebrate his amazing life.  We would like to think Dylan belonged to us.  Really, he belonged to the world displayed by the tremendous outpouring of love, memories and prayers our family has received.
In memory of Dylan, a college fund has been set up for Myles Kade Pekar.  You can donate to this account by contacting Yoakum National Bank at 361-293-5225.