~Eva Perez~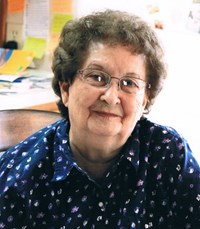 YOAKUM: Eva Perez, 87, passed away Tuesday, August 1, 2017. She was born December 30, 1929 in Giddings to the late Francisco and Evangelina (Trevino) Rodriguez.
She was a member of St. Joseph Catholic Church, a housewife and a loving mother.
Survivors are her daughters, Elizabeth Smith (James) of Round Rock, Teresa Faust (Josh) of Yoakum, Susan Elizondo (Sammy) of Yoakum and Patricia Grahmann (Michael Munguia) of Yoakum; son, Michael Perez of Yoakum; 12 grandchildren and 7 great-grandchildren; sisters, Consuelo Rodriguez of Wharton and Lucy Kijek of Portland, OR.
Preceded in death by her parents; husband, Tony Perez; 3 brothers and 3 sisters.
Rosary 6:30 p.m., Friday, August 4, 2017 at Thiele Cooper Funeral Home.
Funeral Mass 10 a.m., Saturday, August 5, 2017 at St. Joseph Catholic Church with Rev. Matthew Huehlefeld officiating. Burial to follow at St. Joseph Catholic Cemetery.
Memorials may be made to St. Joseph Catholic Church.