~Estelle "Lee" Pfuhl~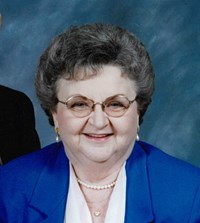 YOAKUM: Estelle "Lee" Pfuhl, age 85, passed away Thursday, April 5, 2018.
She was born November 17, 1932 in Yoakum to Joe and Lillie Janca Jiral.
Lee, as she was known to her friends and family, graduated from Neilson Beauty College and owned and operated Lee's Coiffures in Yoakum. She was active in the PTA (life member), Yoakum Band Booster's, DAV Auxiliary, American Legion Auxiliary, Modern Dance Club #90 (charter member with her husband), Camp Fire Girls leader, Yoakum Tom-Tom Kiddie Parade and Bathing Revue chair, volunteer Audie Murphy Hospital (San Antonio). Lee was a Catholic, member of KJZT and former member of WELCA.
Survivors: daughter's: Marlene Pylate (Patrick) of Fredericksburg and Arnalynn Kellner (Michael) of East Bernard; granddaughter, Mandy Kellner  Beuershausen (Chad) of Magnolia; grandson, Eric Schindler of Fredericksburg; great-granddaughters, Megan and Lauren Beuershausen; sister, Bessie Immenhauser; sister-in-law, Martha Pakebusch.
Preceded in death by: parents; husband, Arno W. Pfuhl; infant son, Michael Pfuhl; brother, Alphonse Jiral.
Visitation 4:00-6:00 with a 6:00 p.m. rosary Monday, April 9, 2018 at Thiele-Cooper Funeral Home.
Funeral Mass 2:00 p.m. Tuesday, April 10, 2018 at St. Ann's Catholic Church (4162 State Hwy 111 West, Hochheim, Texas 77967) with Msgr. John Peters officiating. Burial at Shiner Cemetery.
Memorial contributions may be given to Susan Komen Breast Cancer Foundation, Sweet Home American Legion Auxiliary Scholarship Fund or Sacred Heart Catholic Church in Hallettsville.