~Darlene Pokluda~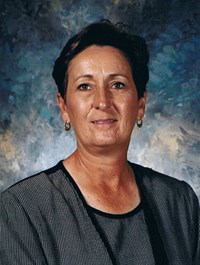 SHINER: Darlene Pokluda, 65, completed her earthly journey, Saturday, November 18, 2017. She was born July 28, 1952 in Shiner to the late Edwin and Adela (Steinocher) Berger.
Darlene will be greatly missed not only as a dedicated daughter, spouse and mother but also as a grandmother. She loved taking advantage of the adventures life has to offer by traveling with her family and siblings as often as she could. She will be remembered not only for the time she spent enjoying fishing but her skills as a fisherwoman. She could be found participating, coaching or spending time appreciating a variety of sporting events. Darlene will be fondly remembered as an inspiration as a teacher not only within the school system but also to her family.
Survivors are her husband of 47 years, Patrick Pokluda of Shiner; daughters, Sandy Bujnoch (Michael) of Hallettsville and Cindy Pokluda of Chicago, Illinois; 2 grandchildren, Karlye and Cole Bujnoch; sister, Shirley Phillips (Johnny) of Shiner.
Preceded in death by her parents; sisters, Delores Berckenhoff and Joyce Kram; brother, Edwin "Sonny" Berger, Jr.
Visitation beginning 9 a.m., Tuesday, November 21, 2017 at Thiele Cooper Funeral Home. Rosary to be recited at 7 p.m.
Funeral Mass 11 a.m., Wednesday, November 22, 2017 at Sts. Cyril & Methodius Catholic Church with Rev. Bryan Heyer officiating. Burial to follow at Shiner Catholic Cemetery.
Memorials may be given to Sacred Heart Catholic School.