~Jerome Pustka~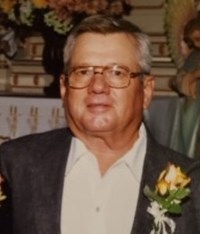 SHINER: Jerome Pustka, 79, passed away Sunday, March 8, 2020. He was born June 1, 1940 in Shiner to Alois and Adela (Furch) Pustka.
He was a member of Sts. Cyril & Methodius Catholic Church, Knight of Columbus,  KJZT and Farm Bureau. He married Irene Vincik August 12, 1967 and they had a daughter and two sons.
Survivors are his wife of 52 years, Irene Pustka of Shiner; daughter, Kelly Pustka (Peter) of Bastrop; sons, Bradley Pustka (Kathy) of Gonzales and Brian Pustka of Shiner; 4 grandchildren, Addison Pustka, Kaitlyn, Hunter and Mason Maroney; 3 sisters, Bernice Kifer (Glen) of Gonzales, Irene Kutach (Julius) of Hutto and Evelyn Siegel (Richard) of Bryan; 2 brothers, Paul Pustka (Susan) of Shiner and Dennis Pustka (Mary) of Montgomery.
Preceded in death by his parents; sister, Adele Henkhaus; 4 brothers, Louis, Mark, Gene and Johnny Pustka.
Visitation 4:30 to 6:30 p.m., Tuesday, March 10, 2020 at Thiele Cooper Funeral Home with Rosary recited at 6:30 p.m.
Funeral Mass 10 a.m., Wednesday, March 11, 2020 at Sts. Cyril & Methodius Catholic Church with Rev. Bryan Heyer officiating. Burial to follow at Shiner Catholic Cemetery.
Memorials may be given to Sts. Cyril & Methodius Catholic Church.
Arrangements by Thiele Cooper Funeral Home, 361-293-5656.